We manufacture various tailor-made promotional textile articles (corporative gifts), excluding ready-to-wear, and we are able to propose high quality and OekoTex certified cotton beach promotional towels, for which we propose so many different options.

The promotional textile goodie can be for example:
kitchen towel
beach or sports towel
pareo sarong with logo
custom beach fouta with logo
toiletry bag logo printed
custom kitchen apron
washable cotton / bamboo cleansing wipes
Beach bag
Terry headband and many others.
We can make a wide range of cotton textile goodies, the list of business gift ideas is long and unlimited, we can make all goodies from cotton fabric, terry and velvet.

Depending on the appropriate budget, we will adapt the manufacturing of the textile goodie and offer you a solution that will best suit your target price.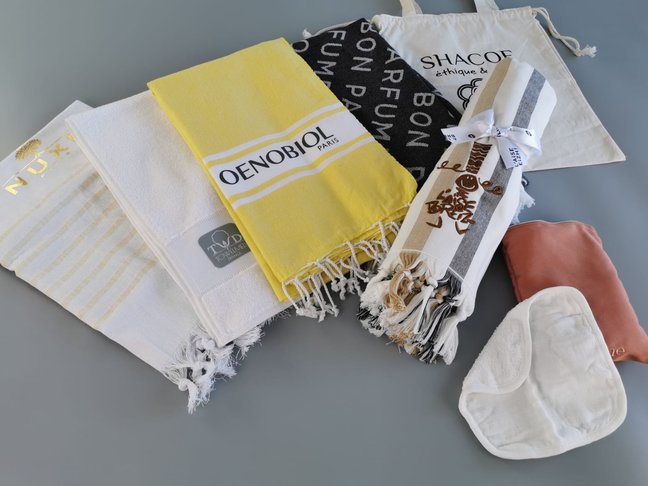 We weave and make towels and all textile items in Turkey, the minimum production is for 1000 pieces for example for the Turkish towels, but this can change depending on demand.

You can now get in touch with us to discuss your needs for business gifts in textiles, we would both find the most suitable item for your request.
Do you want to create a qualitative and very attractive advertising textile article?