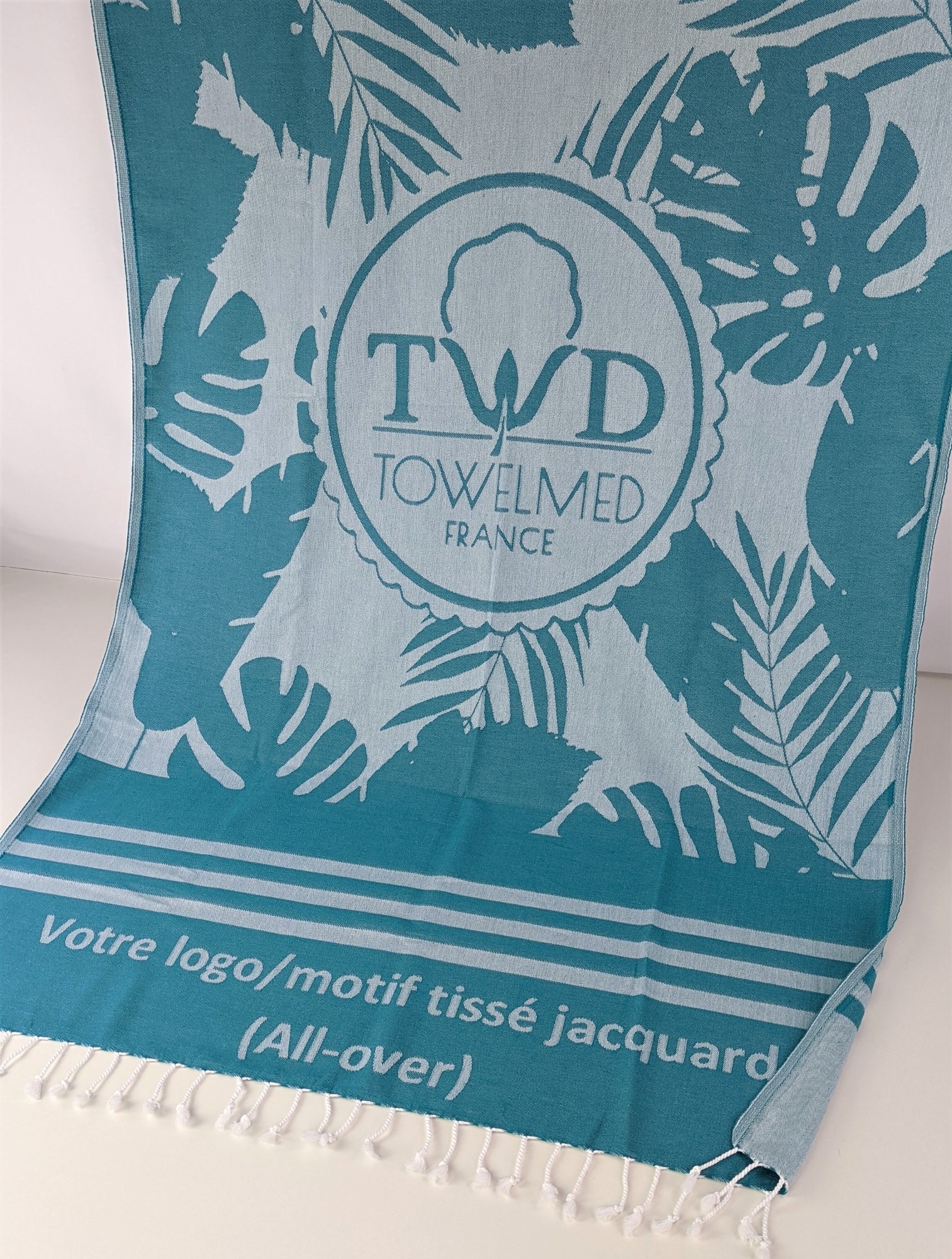 There are different types of Turkish beach and hammam towels on the market:

- flat towels (classic plain or striped, the most present on the market)

- honeycomb towels

- herringbone towels

- Terry sided towels (with the flat front and the back in terry sponge)

- JACQUARD woven Turkish towels .

Today we are going to focus on jacquard towels , the famous towel on which it is possible to represent any pattern, logo and design on the entire surface.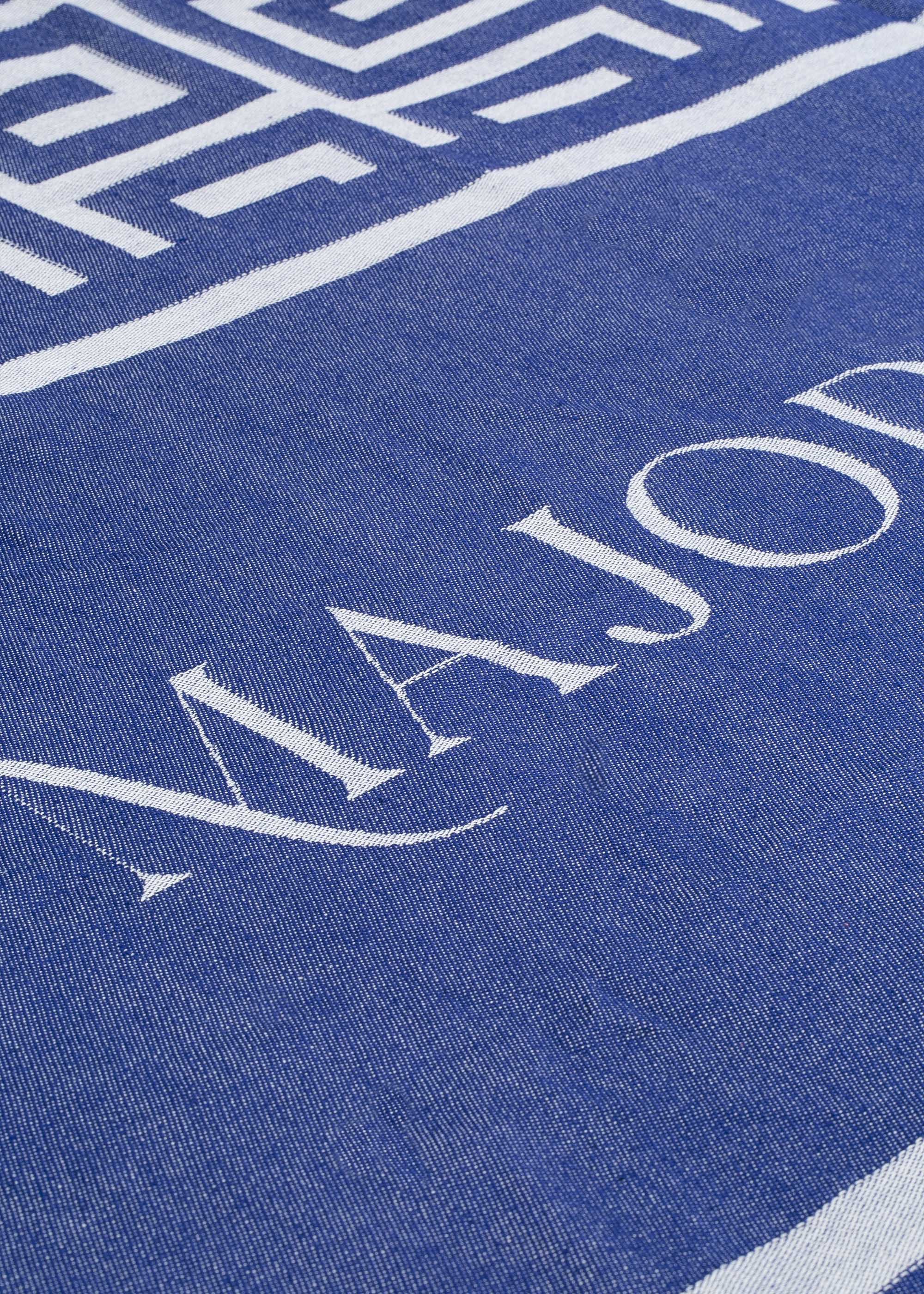 • What is a Jacquard woven Turkish peshtemal towel ?
A jacquard towel is a cotton beach towel with a specific design woven in dyed yarn over its entire surface, which differentiates it from an embroidered or printed towel.

The beach towel has made its place in customs and now we can say that it is the faithful replacement of the classic beach towel, the latter being too heavy and cumbersome.


In this heap of beach towels available on the market that look more and more like each other, how can a brand still stand out with its own beach towel?


The jacquard towel is woven to measure and allows to represent a logo and/or patterns on the entire surface of the towel.

These are previously dyed cotton yarns that are woven and form the towel in a unique design.


Thanks to the jacquard weaving, no more simplistic towels with only stripes, the jacquard fouta makes it possible to represent any design, logo, letters, sentences, faces almost without limits on its entire surface.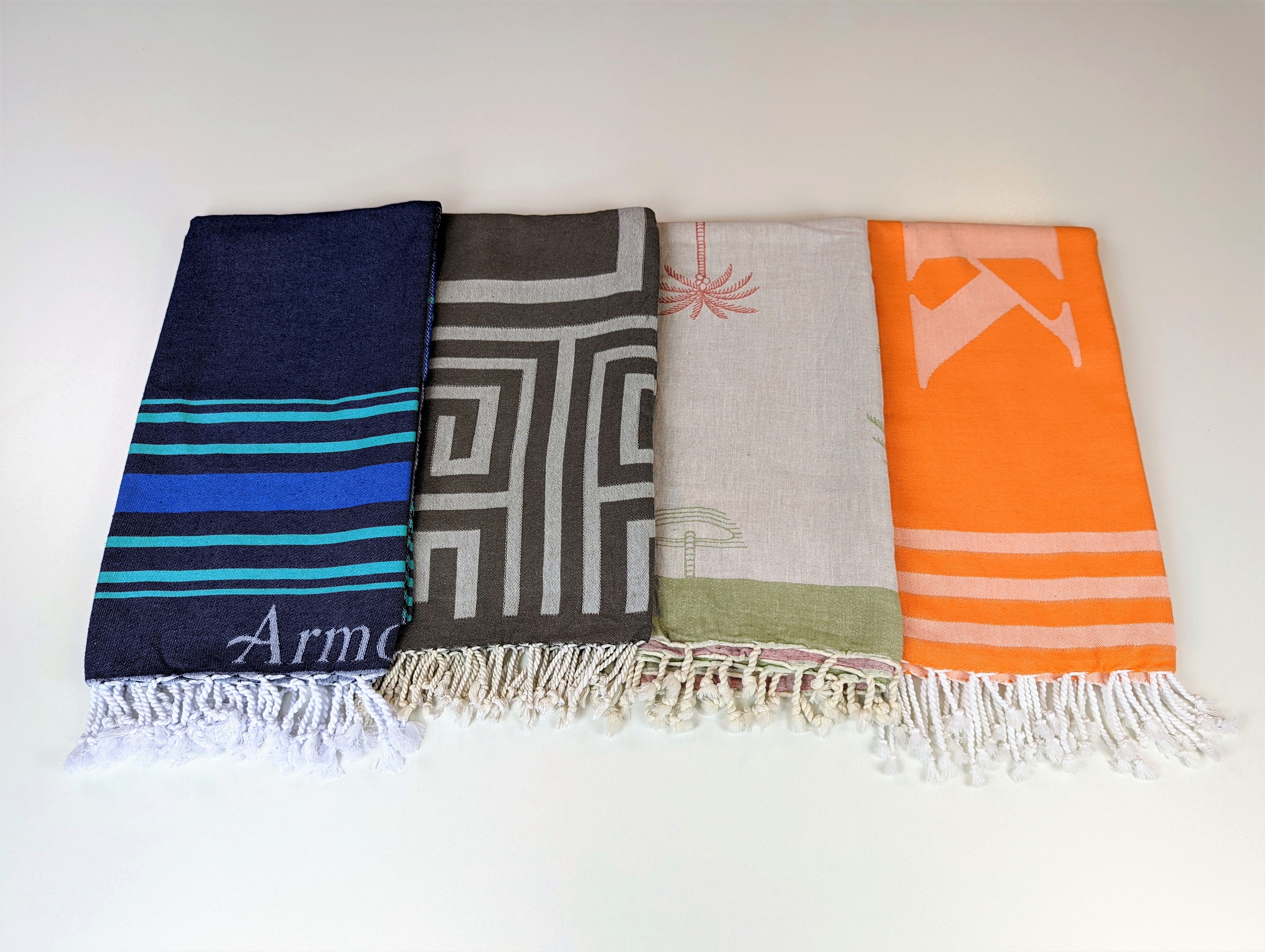 How is made a jacquard woven Turkish towel ?
As explained in our previous article: "what is a jacquard terry towel? », where we had detailed the steps of making a jacquard terry towel, it is very similar with the Turkish peshtemal towel.

1) The textile designer reworks the design with the CAD/CAM software to make it "weaveable"

2) The yarns go first to dyeing

3) Placing the dyed yarns on the loom

4) Weaving of jacquard towels

5) The jacquard towel is ready

6) The top and bottom edges will become  hand-tied fringes.
Here no seams on the sides because they are finished by weaving flat strips.
• Why choose (or not) to make a jacquard Turkish towel for your brand?
Advantages
Representation of a bicolor logo / pattern possible on the entire surface of the towel

Premium rendering
Excellent visual communication
Disadvantages
Complex loom set up + yarn dyeing requiring high order minimums
Limited number of colors
Expensive manufacturing due to specificity by design.
• Towelmed manufactures jacquard Turkish towels for your brand
If you want your brand to stand out, the jacquard pestemal towel is a good option, because it is rarer.
Often the classic towel contains embroidery or screen printing for personalization which has become very common.


To avoid the "déjà vu" effect of your brand, you can opt for the manufacture of the custom-made jacquard Turkish peshtemal towel with your own logo/design.

Towelmed, specialist in bath linen manufacture, will accompany you from A to Z in the sourcing of premium fouta woven to measure for your brand.


For more information, you can visit our detailed page on any jacquard Turkish peshtemal towel request below:
Custom Jacquard woven Turkish beach towel 100% OekoTex® certified cotton, custom woven with jacquard loom of your logo / patterns with yarn dyed. Your design or logo is woven all over the towel surface.The jacquard Turkish peshtemal towel is woven according to your choice of colors, either from our 26 stock colors or with your own Pantone ® color...
You request custom jacquard woven Turkish towels ?