• The custom peshtemal towel: An original promotional towel
If you are looking for an aesthetic, durable advertising object that reflects the spirit of your brand, opt for a textile article experiencing growing success: The customized pestemal towel.

The different possibilities of colors, weaving and customizations of the fouta, make it a powerful communication tool. Mobile like its users, the pestamal towel is perfect for promoting major brands of cosmetics, hotels or travel agencies, for example.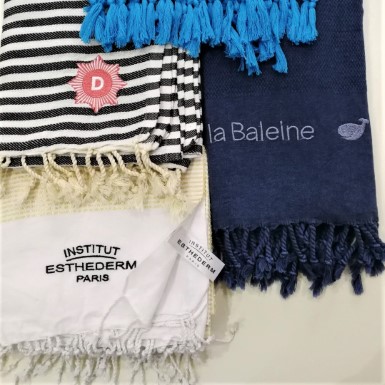 • The promotional peshtamal towel, a necessary tool for ready-to-wear and the tourist activity sector.
Originally, the peshtemal is a flat bath towel used in hammams. It was woven on mechanical looms before they became automated. Today the traditional methods have been improved, but the pestemal has kept its artisanal side, since the fringes at the ends are still knotted by hand.

This beach towel hits the beaches of the world today, this thin and versatile fabric has become a must-have product in the summer. This is why the peshtemal is essential in the world of sales and tourism.
• The peshtemal, a representative of well-being
The fouta is a beach product, useful both for tanning in the sun and for drying off after a good swim.

Being a wellness advocate is not an easy job. The most important thing is to find an object that reflects your brand, an object that will inspire harmony, joy and tranquility. And although personalized candles and lip sticks have their effect, you need to find something more original and useful, but above all more durable.

Good to know "The promotional item is a necessity for brands. More than 80% of people keep an advertising item because it is practical and more than 40% because it is attractive (to use, offer or collect).
• Promoter of sun products, the peshtemal is made for you.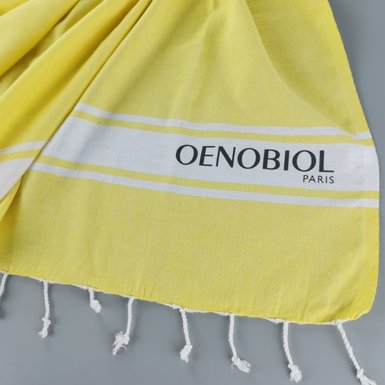 Promotional peshtemal towel
You need to promote self-tanning capsules, sunscreen, or tanning salons, but don't know how to do it in an effective and original way.
Opt for a radical solution, advertise in the sun.

Pick up your customers where they are, at the beach or at the pool. Offer foutas that will serve as a beach towel and make people talk about you. Trust this magnificent fabric that you can personalize as you wish with the expertise of Towelmed advertising peshtemal cotton towel.

Thus, you will be able to choose your type of weaving, your colors, your personalizations and your pattern.
• The personalized peshtemal towel, an asset for ready-to-wear
Ready-to-wear, unlike haute couture clothing, is aimed at a wide audience. It adapts to all personalities, all body types and all budgets.

But despite the fact that ready-to-wear consumers wear clothes for everyone, they want to stand out, to look exceptional.

The cotton peshtemal has already become a real reference in the world of bath linen. Originally from Tunisia and Turkey, (called fouta in Tunisia), it is now available in stores around the world. It is an integral part of our summer.

This is why it is now essential for couture chains to have a fouta in their summer collection. The advantage with the personalized pestamal towel is that it can become the spokesperson for your brand for the time of a collection.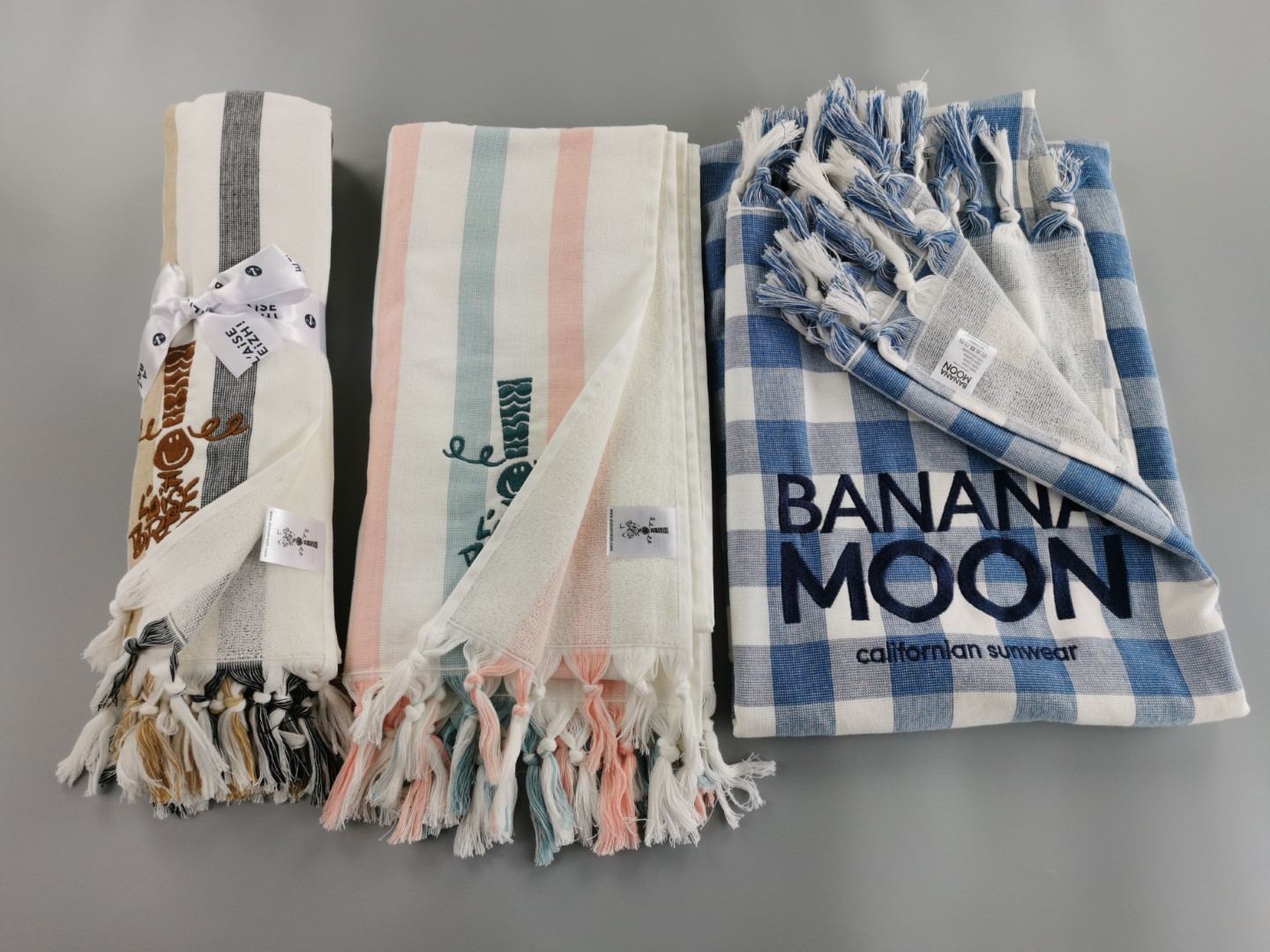 Today's consumers are more and more demanding and trends change as the seasons progress. Opting for a peshtemal towel in the image of your brand makes it possible to think of a long-term collaboration.

Over the seasons, you can change the colors, style and fabric used for this famous beach towel. But its quality will allow your customers to use last year's product for other purposes, as a picnic towel or as decorative items, for example.
• The essential advertising textile for hotels: the personalized peshtemal towel
Communicating a hotel is a vast subject and the possibilities are numerous. Talking about your offers, your services, your team and your environment, advertising via websites, etc., this is essential. Indispensable it is true, but is it enough? When we talk about communication, we have to think of everything: the media we will use, the periods of broadcast, the actors, but also the message broadcast.

The purpose of an advertisement is to convey a message, the right message, to the right target. But who other than your own customers could tell the right people about you?

So that your customers can talk about you, offer them a personalized fouta. Thus, when they go for a walk on the beach and in tourist places, they will wear your brand image. The fouta will not simply be a towel that you put on the hotel bed, it can have multiple uses. This textile goodie will provide the best possible advertising, transmitted to the best possible target: vacationers near your hotel.

A good communication strategy for a heavenly home begins above all with the creation of its logo. This will have to say a lot, by the style of the typography chosen, by the colors which will set the tone for the entire graphic charter of the hotel, and by the shape, which will reflect the concept of the latter. The logo that already says a lot about your brand can be inscribed on your fouta, and in different ways depending on your graphic charter (printing, embroidery, jacquard weaving, logo label).

The personalized fouta seems to be more than any other object, an indispensable advertising medium for the advertising of your hotel thanks to its visibility, its usefulness and its longevity.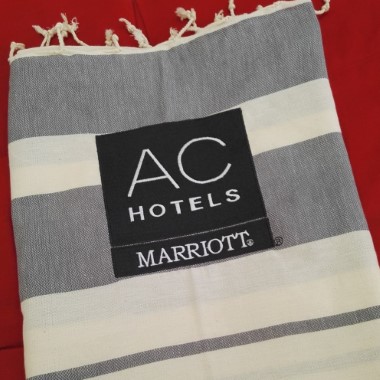 • How to promote a cosmetic product?
Advertising cosmetics takes a lot of effort. There are a number of solutions but also a lot of competition. For this reason you need an original object, which your competitors will not immediately think of.

Your communication strategy is sorely lacking in originality, you offer samples, you build customer loyalty by offering them products adapted to their lifestyle, but more often than not, you make partnerships. But when are you going to switch to the effective method: make your customers your advertising asset.

Offer them a useful object that they will use in front of others, an aesthetic object that they are happy to wear, a product that talks about you. The personalized fouta meets all these criteria

Makeup, creams, are beauty products that we use when we are well. What other time than the holidays to feel good. And fortunately, the fouta is the ideal product to go on vacation. On the beaches, as a bath towel or as a pareo for dressing, the fouta is an ideal rectangle of fabric to write your brand on.

Now you say to yourself that trusting us would allow you to have well-located advertising, but concretely, how is fouta an ideal advertising medium?
• Why choose personalized Turkish towel as an advertising tool?
The personalized Turkish peshtemal  towel is a large custom-made bath towel that is generally one meter eighty long by one meter wide. This surface is ideal as a communication medium, since it is not likely to go unnoticed.
• The peshtemal towel, an effective loyalty tool
Retaining a customer has never been so difficult, we are no longer in the days of physical stores where discussion and friendship were selling assets. Today in one click your customers can buy from your competitors and it is very difficult to retain them.

Loyal customers are the best asset for your brand, because they are less costly for your business and they are the best spokespersons for it. To retain your customers, you must create an emotional bond between them and your brand. For that all means are good.

Good to know "increasing your customer retention rate by 5% would boost your profits by 25% to 95%"
• Offer a personalized pestemal towel to increase your sympathy capital
A company must perpetually increase its sympathy capital. It's important to nurture the relationship you've built with your client, so that they feel valued. Show your employees, customers and partners that you are grateful. This will strengthen their attachment to your business. And you will reap many benefits.

To build customer loyalty, companies provide full transparency on the nature and quality of the products they sell. Moreover, they make offers accessible only to loyal customers and constantly improve the quality of their products. But all this necessary protocol is deja vu. To retain your customers, you have to surprise them. Give them gifts they've never had, gifts that are 100% useful, aesthetic, and durable. The personalized fouta meets these three criteria.

The pot or points program is effective, it's true. But go further than your competitors, offer your customers clothing that reflects your brand. And there are many reasons to do so:

- surprise your customers with an original gift

- meet the needs of your customers, particularly in summer

- provide a timeless product, a must-have

- allow multiple uses, so everyone would be satisfied.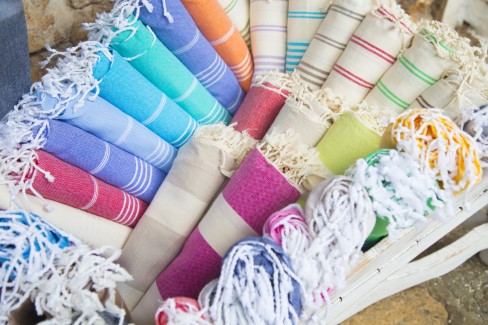 • The peshtemal towel is highly effective in advertising.
Advertising effectiveness is a measure that aims to indicate the ability of an advertisement to meet the advertiser's objectives. The indicators for measuring the effectiveness of an advertisement are diverse and varied, but they will help us understand how the fouta is effective in its advertising role.

One of the indicators for measuring the effectiveness of an ad is ad recall. In other words, the indicator seeks to know if the advertisement has an impact on the memory of the targets. Either because it is seen many times or because its design is creative.

If you are the manager of a spa hotel, for example, and you offer a fouta to each of your customers, you can imagine that the nearby beaches will be covered with your advertising. So the fouta allows both to have a creative advertisement by its personalization, and at the same time to be seen in large numbers.

Another indicator is called emotional efficacy. This indicator considers that the emotions conveyed by your advertising will have a direct impact on your brand image. The personalized fouta is an advertising object allowing you to feel good, which invites you to go to places conducive to travel. Thus, it is the feeling that your targets will have when seeing your advertisements on this rectangle of fabric, they will have the impression of traveling.

Finally, a last indicator that we will cite is called advertising approval. This translates into the fact that individuals who are exposed to an advertising message find it enjoyable. The fouta, which can be used as a beach towel or a picnic towel, will have no difficulty in carrying a pleasant message. Don't be afraid to add text that makes you smile, if it fits your brand image
• The Turkish towel, an original idea to set you apart from your competitors
Although the Turkish peshtemal towel was designed to dress the size of men and women in hammams, today it is used for many other reasons.

Of course, its primary function has been kept, but also perfected. The fouta is now used outside swimming pools and hammams, on beaches and markets in summer.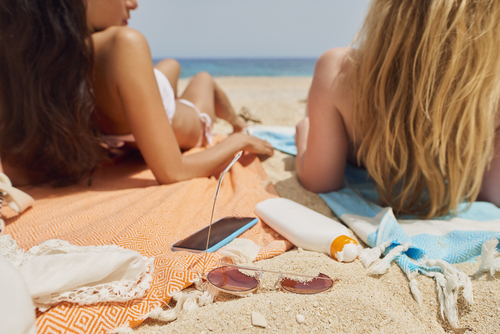 On the beaches, the peshtemal towel is used as a sarong, but also as a bath towel. It can also be useful as a light in the sun, hung on the parasol to protect our children during a snack.
• Decoration throw peshtemal
The peshtemal is a fabric woven to the dimensions you want. This is why you can give it the function of your choice:

- Bath towel in a bathroom
- Decoration throw in a living room
- Bedspread in a bedroom or sofa throw

We can guide you in choosing the type of weaving and marking of the fouta according to your needs.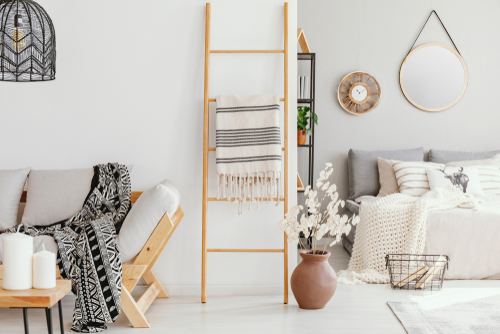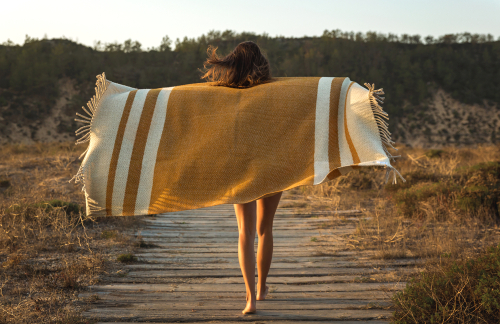 Its dimensions and ease of maintenance allow the fouta to be used as a tablecloth or as a plaid for a picnic outside. On summer evenings, it can be used as a stole for a walk by the lake.

As you will have understood, the fouta is the ideal product to set you apart from your competitors. It is useful and can brand your brand like no other product. But even more, the fouta can be exposed through your customers, in multiple places.
• The Towelmed custom-made peshtemal, a family know-how for more than 20 years
With the family factory based in Turkey (Denizli), Towelmed makes you benefit from its expertise in the manufacture of tailor-made linen that will suit a brand, a hotel or even be the advertising medium for any company looking for 'originality.

Towelmed aims to ensure total transparency and traceability of the manufacturing process of your parts, with, among other things, the use of OekoTex certified cotton.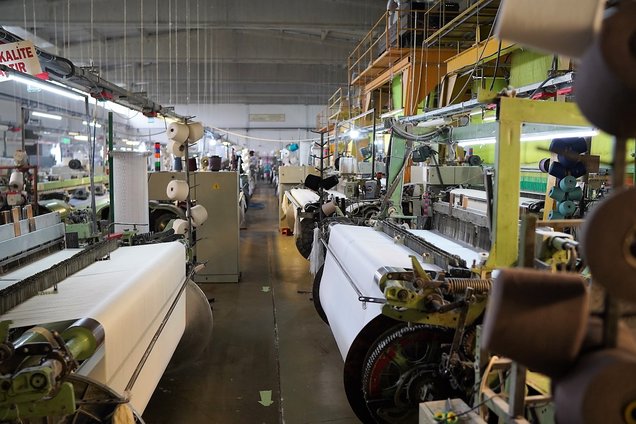 • The peshtemal towel is an ecological product by its durability
The Turkish peshtemal towel consists of a quality custom weaving. Despite the fineness of the fabric, the know-how of the manufacturers makes the product very resistant. It is therefore not uncommon to see users keep their peshtemal for more than ten years.